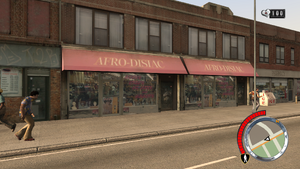 Afro-Disiac is a hairdresser salon appearing around New York in Driver: Parallel Lines.
It only appears in the 1978 era, where it features a prominent red awning with the company name, and large windows with store content visible. It cannot be entered and plays no role in the game's storyline whatsoever. The store is replaced by Heads Up Wigs, another beauty-based store, in the 2006 era, where it appears with an identical design, albeit the company logo replacement.
The store's name is a clear reference to Aphrodisiac, using the "Afro" hairstyle as the name.
Ad blocker interference detected!
Wikia is a free-to-use site that makes money from advertising. We have a modified experience for viewers using ad blockers

Wikia is not accessible if you've made further modifications. Remove the custom ad blocker rule(s) and the page will load as expected.