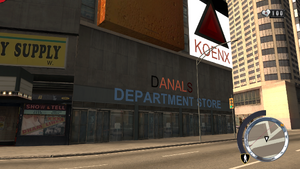 Danals Department Store
is a department store in
Driver: Parallel Lines
.
The store can be found in Times Square, Manhattan, during the 1978 era. Nothing much is known about the store, apart from the fact it occupies a high-rise building with two neon billboards on the middle of the building. The building plays no role in the storyline whatsoever.
By the 2006 era, the store has become an nondescript shopping unit.
The neon letters "D" and "S" continuously flash on and off, occasionally making the sign read "ANAL".
Ad blocker interference detected!
Wikia is a free-to-use site that makes money from advertising. We have a modified experience for viewers using ad blockers

Wikia is not accessible if you've made further modifications. Remove the custom ad blocker rule(s) and the page will load as expected.