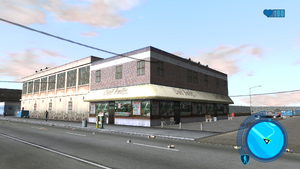 Deli Belly TN
is a delicatessen in
Driver: Parallel Lines
.
Description
Edit
One of their stores is located on a cul-de-sac in Hunts Point, Bronx, to the right of the Ray's Autos garage, during the 2006 Era. The stores are inaccessible to the player. The aforementioned store is featured briefly in Tailgate, where Ray's two BX-9s are parked. The building replaces Salsa Deli Market store that appears in 1978.
Near the cul-de-sac Hunts Point store, several Reginas undergoing restoration are found.
Ad blocker interference detected!
Wikia is a free-to-use site that makes money from advertising. We have a modified experience for viewers using ad blockers

Wikia is not accessible if you've made further modifications. Remove the custom ad blocker rule(s) and the page will load as expected.