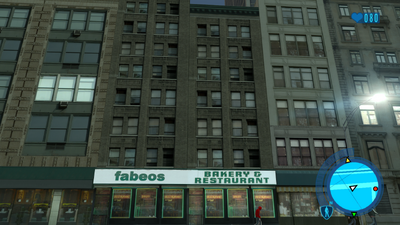 Fabeo's Bakery & Restaurant
(incorrectly named "
fabeos Bakery & Restaurant
") is, as the name implies, a restaurant and bakery found across
New York
in
Driver: Parallel Lines
.
Nothing much is known about the business nor the branches, other than they own a 8-story building in Manhattan. The buildings are inaccessible and play no role in the storyline whatsoever.
Ad blocker interference detected!
Wikia is a free-to-use site that makes money from advertising. We have a modified experience for viewers using ad blockers

Wikia is not accessible if you've made further modifications. Remove the custom ad blocker rule(s) and the page will load as expected.