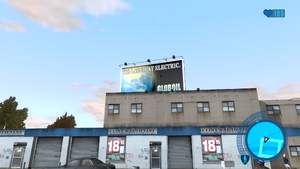 Globoil
is an oil company mentioned in
Driver: Parallel Lines
.
The company is advertised on billboards around Hunts Point in The Bronx. It appears to mock the use of electricity, with the billboards stating "We laugh at electric". The billboard's picture and name reference to the global market of oil products. They appear to replace another oil company featured in the 1978 era, Mandrill Oil, as billboards of this company are replaced or relocated nearby in 2006.
Globoil is likely based on Gulf Oil.
Ad blocker interference detected!
Wikia is a free-to-use site that makes money from advertising. We have a modified experience for viewers using ad blockers

Wikia is not accessible if you've made further modifications. Remove the custom ad blocker rule(s) and the page will load as expected.