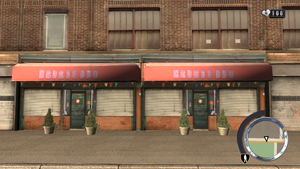 Karate BBQ is a generic store found around New York in Driver: Parallel Lines.
It takes a generic store design with a title "Karate BBQ" in funky lettering across the awning. The windows are covered in metal and two plant pots are found outside the shop. Colorful bunting is hung from the awning. The building cannot be accessed and plays no role in the storyline whatsoever. It is replaced by Nailed in the 2006 era.
Ad blocker interference detected!
Wikia is a free-to-use site that makes money from advertising. We have a modified experience for viewers using ad blockers

Wikia is not accessible if you've made further modifications. Remove the custom ad blocker rule(s) and the page will load as expected.