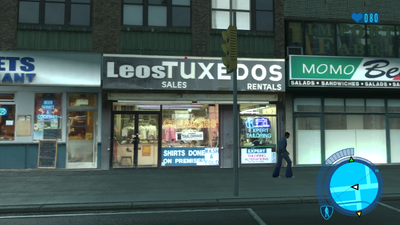 Leo's Tuxedos
(incorrectly named "
Leos Tuxedos
") is a small clothing store found across
New York
in
Driver: Parallel Lines
.
The store appears to sell, clean and dry clothing of tuxedos, shirts and suits, according to adverts within the window display. The building is inaccessible and plays no role in the storyline whatsoever. It is seen in both the 1978 era and 2006 era.
Ad blocker interference detected!
Wikia is a free-to-use site that makes money from advertising. We have a modified experience for viewers using ad blockers

Wikia is not accessible if you've made further modifications. Remove the custom ad blocker rule(s) and the page will load as expected.