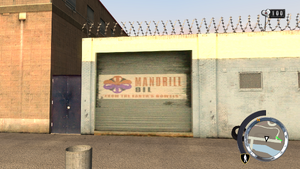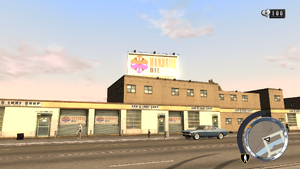 Mandrill Oil
is an oil and gas company found in
Driver: Parallel Lines
.
Mandrill Oil operates in Hunts Point during 1978, with billboards and warehouses bearing their logo around the area. Their warehouses have a bright yellow and purple painted exterior, matching the company's logo. Their warehouses are inaccessible, although one of their warehouse plays a role as the warehouse Rafael Martinez is taken to in Kidnap.
Mandrill Oil no longer operates in 2006, presumably replaced by Globoil.
The name is a clear reference to the sexual act of a Mandrill, in which a girl/guy giving a handjob rubs too hard in turn giving a red penis.
Ad blocker interference detected!
Wikia is a free-to-use site that makes money from advertising. We have a modified experience for viewers using ad blockers

Wikia is not accessible if you've made further modifications. Remove the custom ad blocker rule(s) and the page will load as expected.