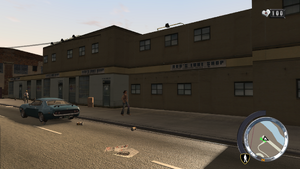 Rod's Lube Shop
is a business operating in
Hunts Point
,
New York
, in
Driver: Parallel Lines
.
The company has numerous branches around Hunts Point and the surrounding areas remaining in The Bronx. They appear on longer single-story buildings with numerous garage entrances, with a yellow and white color scheme, and a yellow stripe around the building featuring repeats of the title. They only appear in the 1978 era, as all branches are replaced by Clint's Auto Tint in the 2006 era, with an identical appearance only different color scheme. Rod's Lube Shop specialises in automotive lubes, such as sandpaper, oils and waxes.
One of the branches is located directly opposite Ray's Autos in Hunts Point.
"Sandpaper" is misspelled "Sanpaper" on the banner.
The company name is likely a crude reference to another form of Lube used for sexual activities.
Ad blocker interference detected!
Wikia is a free-to-use site that makes money from advertising. We have a modified experience for viewers using ad blockers

Wikia is not accessible if you've made further modifications. Remove the custom ad blocker rule(s) and the page will load as expected.